A large amount of financial and material support is needed to carry out a project like Formula Student. It would be impossible to design and manufacture a racecar, let alone compete in any of the races, without our sponsors' funding. As a result, we'd like to express gratitude to all of our sponsors for their generous support during the project. They play an important role in our success!

The Faculty of Mechanical Engineering and Naval Architecture (FAMENA) was founded as follower of the Royal Technical College founded in 1919. The FAMENA is a leading institution in education, science and expertise in the field of mechanical engineering, naval architecture and aviation in the Republic of Croatia. Five study programs are conducted at the FAMENA; studies in mechanical engineering, naval architecture and aviation in undergraduate and graduate studies, as well as doctoral and specialist studies. There are also 10 student associations at the faculty, and the FAMENA, in addition to technical skills, also cares about students' sports activities. The mission of the faculty is to follow the principle of innovation as an essential factor for scientific research and teaching activities and to educate professionals who will be capable of active and successful lifelong learning.

Rimac Automobili is a Croatian company that produces electric vehicles, founded by Mate Rimac in 2009 with its headquarters in Sveta Nedelja. In addition to electric vehicles, the company is engaged in the production of propulsion systems and battery systems. Rimac Automobili is known for producing the fastest electric car – Concept One with 1,088 HP and 3,800 Nm of torque, which accelerates to 100 km/h in just 2.8 seconds. As part of car development, the company is developing a large number of systems, components and technologies that will find application and market in other car manufacturers. Rimac Automobili is currently developing a new generation of motors, inverters, battery system, transmission system and infotainment.

DMG MORI AKTIENGESELLSCHAFT is one of the largest German manufacturers of cutting machine tools and a manufacturer of milling machines with CNC control and CNC lathes. Behind DMG MORI stands the combined engineering mastery of 73 years of Mori Seiki and 151 years of GILDEMEISTER. The products that the company provides include machinery, industrial services, and software and energy solutions. DMG MORI are present worldwide at 138 points of sale and service, and for their goals they state automation, digitalization, additional production, technological excellence and quality without compromise.

SKF is a Swedish company for the production of bearings and seals founded in Gothenburg, Sweden in 1907. The company is engaged in the development, design and production of bearings, seals and lubrication systems. It also provides machine condition assessment, engineering and processing services. SKF is the world's largest manufacturer of bearings and employs around 44,000 people in 108 production units. The company is globally certified for IS0 14001 (environmental management system), IS0 50001 (energy management) and OHSAS 18001 (health and safety) standards. Its business is also certified either according to IS0 9001 or according to current customer industry standards.

Byte Lab was founded by Danijel Babic and Matija Puskar, two friends who started playing with electronics back in Elementary School. After graduating at Faculty of Electrical Engineering and Computing they started a company focused on development and innovations in area of electronics and embedded systems. Few years later, Ivan Dodig their Faculty colleague joined in and today they represent a Board of Directors.
Support Croatia's largest student project's 18-year tradition and revolutionary efforts to become a regional team truly ready to perform at the highest levels of Formula Student.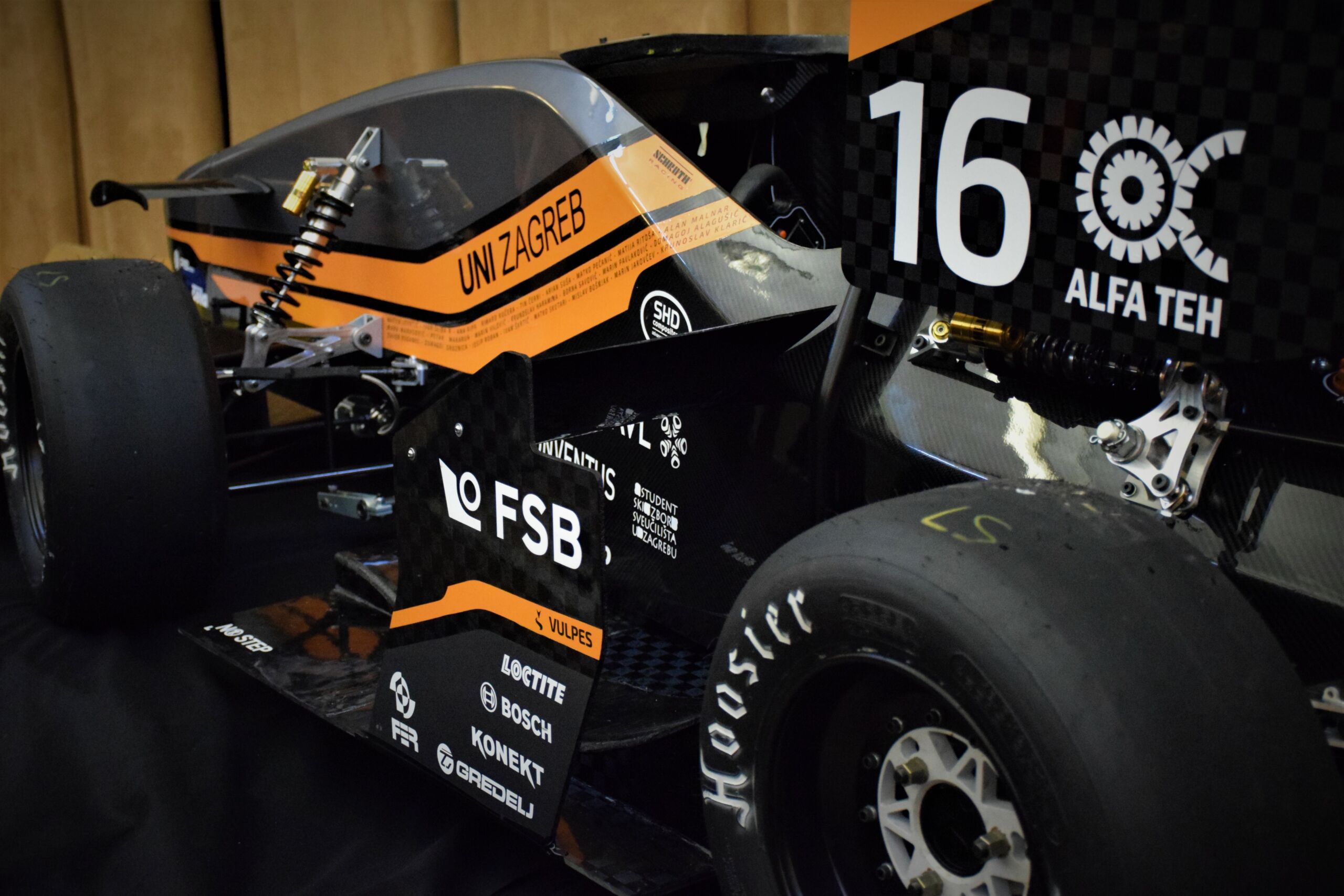 YOUR NAME ON OUR RACECARS!
Make your organization a part of the multitude of national and foreign businesses that are funding our efforts. Our partners' logos are prominently displayed not only on our race cars, but also on our shirts, calendars and this website.